The Asoarhuaco coffee comes from the northern end of Colombia, where the departments Magdalena and La Guajira face the Caribbean Sea. Santa Marta, the capital of the department Magdalena, is towered by the Sierra Nevada mountain range, which gave its name to the coffee region Sierra Nevada. This is one of the six coffee-producing areas in Colombia with the prestigious status of "Denomination of Origin".
Coffee – grown by the indigenous tribe of the Arhuaco
The remote area of the Sierra Nevada mountain range is home to several indigenous tribes, namely the Kogi and Arhuaco people, descendants of the Pre-Columbian Tairona Culture. They have lived in the area for thousands of years and maintain a perfect relationship with nature. National Geographic did a great piece about these fascinating people and their culture if you want to know more about them. They have been cacao growers, and since the arrival of the non-native coffee tree in the Americas, they also took up coffee farming.
Living in harmony with nature determines their farming methods which rely on age-old wisdom. The coffee is shade-grown, bird-friendly, and certified organic.
Asoarhuaco coffee is now Fair Trade
Like many other indigenous tribes in developing countries, the Arhuaca people had been exploited by unscrupulous merchants. Supported by the local government, they created the Association of Producers of the Arhuaco People of the Sierra Nevada de Santa Marta (ASOARHUACO). This put an end to the exploitation and made their coffee fair trade.
They have created a website that includes an online shop. However, ordering coffee directly from there still needs more improvement. The main drawback is that they are currently shipping their products only within Columbia. Service to overseas destinations is not yet properly arranged for. Be patient. Eventually, they will get their act together. After all, they are in a very remote area.
I was lucky to find Asoarhuaco coffee at a small roaster in Tokyo as their monthly featured coffee of July 2022. It always amazes me how the Japanese source great coffees from the most improbable locations.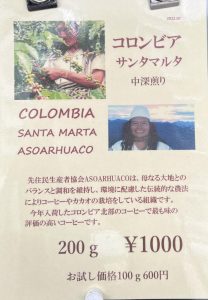 How does Asoarhuaco coffee taste?
I found the Asoarhuaco coffee to have a balanced acidity and a delicate body. Hints of citrus and notes of dark chocolate and dried apricots rounded up a very satisfying experience.
Where to buy Asoarhuaco coffee?
Unfortunately, I don't have a source right now that I can recommend without hesitation. One possibility could be their webshop. Hopefully, it will be fully operational soon.
There are a few other suppliers on the internet, but I don't order anything when there is no clear indication of how many grams there are in a bag. And I would buy only whole beans, which eliminates some other suppliers.
If any of my readers find a reliable source, please let me know or put it in the comments below. Thank you.
Photo credit title image: Aris Gionis on VisualHunt.com