Manual coffee grinder vs. electric grinder
The most critical coffee gear for making an excellent cup of coffee is your coffee home grinder. However, not all coffee grinders are created equal; the type and quality will make a significant difference. When you are brewing high-quality coffee beans, this becomes even more evident. The choice of coffee grinders you find in stores these days has considerably broadened over the last few years. You can find a growing selection of electric burr grinders and even cheap electric blade grinders. And then, you also have a variety of manual coffee grinders at various price points to choose from. Manual coffee grinders are getting more popular these days, and for good reasons, as I will explain below.
The choice is yours, but it's not an easy one. Having gone through several coffee grinders over the years, both manual and electric, I can help you make the right decision. 
What should you expect from a good coffee grinder?
The first thing you expect from a good coffee grinder is that it grinds your coffee beans to correctly match the required grind size for your chosen brewing method. If you are into espresso or Turkish coffee, you know that this can be a challenge. Not all home grinders can handle this task properly. Cheaper electric grinders usually fail at this.
In addition to the right grind size, you want the coffee grounds to be as uniform in size as possible. A mix of small and large grinds will give you an uneven tasting profile. The aroma extraction differs depending on the grind size. And you don't want too many dust-like particles, the so-called fines. They will end up as sediment or sludge on the bottom of your cup and add sourness or bitterness. When using a French Press, a metal mesh filter, or a Bialetti Moka pot, you don't want the sludge.
And you also don't want too many fines when you make a cold brew coffee, either. Sludge can change the flavor profile and is not pleasant on your tongue.
Blade grinders are not grinding your coffee beans; they are smashing them and thus creating an uneven grind with lots of fines. They also heat your coffee beans in the process, causing volatile aromas to disappear into the air instead of into your cup. Therefore, I will disregard blade grinders in this post entirely.
Burr coffee grinders are the way to go as they are most efficient in creating a uniform grind.
Are manual coffee grinders better than electric?
Both have their advantages and disadvantages, but based on my personal experience and preference, a manual coffee grinder comes out as the clear winner. 
However, if you regularly brew coffee for family and friends, you may be better off with an electric grinder. Grinding coffee for more than six cups at a time can become a bit tiring when done manually. 
For some folks, the convenience of just pushing a button and saving a minute in the morning is a priority. I do not consider grinding my coffee manually as a chore. It has even a contemplative quality I would not want to miss. And with the proper manual coffee grinder, it does not take much more time anyway. Here are some more reasons why I prefer a manual coffee grinder:
Advantages of a manual coffee grinder
A manual coffee grinder typically is a burr coffee grinder and
is by far less noisy, so you don't wake up everybody in the house
does not heat your coffee grounds before brewing and does not send the volatile aromas into the air
has a smaller footprint, which is vital for me because of limited kitchen space
does not need an electric outlet
is portable and can be used anywhere, even on a camping trip in the wilderness
does not build up static electricity and litter your kitchen with coffee grounds
it is much less likely to break down
If my little list of advantages has convinced you, take a closer look at manual coffee grinders. Let's go through some critical points on choosing the right one that will reward you with an outstanding coffee experience.
How to choose the best manual coffee grinder
Before buying a manual coffee grinder, I recommend you check these five points to make sure to find the perfect one.
The grinding mechanism
The most critical part of any grinder is the burr. The burr is what determines the quality of the grind. All manual coffee grinders have a conical burr made from ceramics or steel. 
Ceramic burrs have the reputation of having a longer life than steel. Yet, at the same time, ceramics is brittle and can break relatively easily. My first manual coffee grinder once rolled off the kitchen counter onto the floor, and that was it; the ceramic burr broke into pieces. And even a ceramic burr is not immune to loosening its sharpness over time. Further down you will find a photo of a ceramic burr after two years of usage.
Stainless steel burrs can have a much more detailed structure and are much sharper. They are cutting the beans before shaving them. The result is a more uniform grind size and a drastic reduction of fines. 
The burr sits at the bottom of a central shaft, and on top, you have the hand crank. The stabilization of the shaft inside the grinder will make a fundamental difference. In cheaper models, insufficient stabilization can result in a wobbly movement, which produces a less uniform grind size. In pricier models, one or two bearings hold the shaft in place, ensuring smooth grinding and consistent coffee grounds.
Material
The body material of a manual coffee grinder is steel, aluminum, or plastic. Some models have coffee grounds chambers of glass.
My advice is to go for steel or aluminum and choose a sturdy one. It may be heavier than plastic ones, but you will have a firmer grip, making grinding easier. 
Generally, I avoid using plastics with food or drinks as much as possible. In addition, plastic tends to be subject to a build-up of static electricity due to the grinding action. As a result, coffee grounds may stubbornly cling to the plastic parts when emptying the coffee grounds chamber. Coffee grounds may also fly all over your kitchen counter and create a real mess. 
With a glass chamber, there will be less static electricity. But glass is rather heavy and can break. Metal is the best solution as it conducts electricity well and avoids the build-up of static electricity. 
Capacity
Choose a hand coffee grinder big enough for your needs. Manual coffee grinders have a capacity between 15 and 100 grams. My new manual coffee grinder, the Chestnut NANO, has a listed capacity of only 15 grams, but I can squeeze in about 20 grams. And if I need to grind more, I do another round of grinding – no big deal. 
Grind setting
You want to choose a grinder allowing the full range of grind sizes. If you are an espresso or Turkish Coffee lover, you need a pretty fine grind. Not all electric grinders are up to this task, but most manual coffee grinders can handle it. Cheaper models have an unmarked dial you have to turn. It often carries the label "infinitely adjustable grind setting", which sounds nice but is in reality not very convenient. Returning to a previous setting works only through trial and error. If you often switch brewing methods, this can be a nightmare.
A stepped adjustment dial is an improvement. Each step is noticeable by a click of the dial, and you have to keep track of the number of clicks.
The most convenient solution is a numerical grind setting that shows you the current setting without counting clicks. Unfortunately, you will find a convenient numerical grind setting only in the more expensive models. 
Price
Prices for manual coffee grinders range from about $10 to about $400. In the lower price range between $10 to $50, you will find several models from different vendors that are almost identical. These are grinders with a somewhat simplistic ceramic burr and a steel body made in China. 
My best recommendation for a manual coffee grinder
I had used the JavaPress grinder for about two years. It had gradually lost its sharpness, and I realized that a replacement was unavoidable. After considering the criteria above and my previous experience with coffee grinders, I felt an upgrade was in order. 
I considered the popular Hario Skerton, mainly because Hario is a well-known maker of quality gear. 
But finally, I bought the Chestnut NANO. 
After a few weeks of using the Chestnut NANO, I can tell you that I am glad I chose this model that I can wholeheartedly recommend.
Timemore NANO Manual Coffee Grinder
The Timemore NANO is the smallest model in the Chestnut line of manual coffee grinders, which all have an outstanding visual design and are technically top-notch.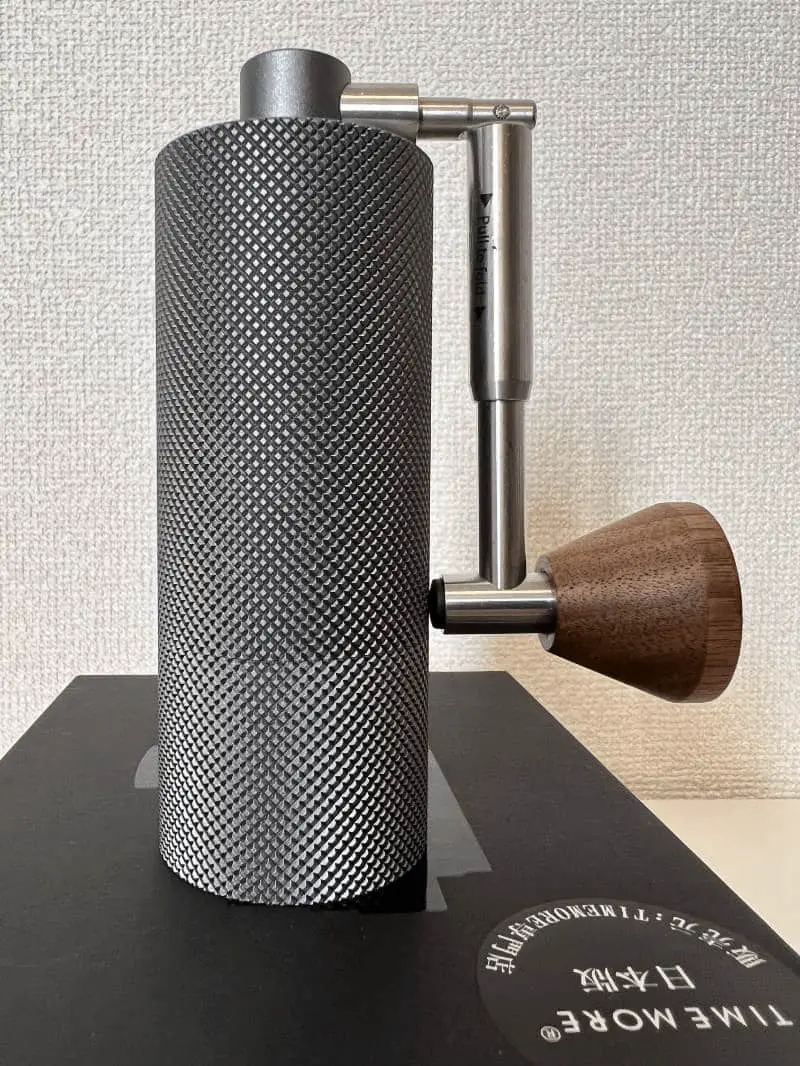 The grinding mechanism
The stainless steel burrs are CNC machined with high precision and sit on a central shaft firmly held in place by a dual bearing. The firm fixation ensures absolutely no wobbling and a very smooth grinding action. The grounds are as uniform as possible, and the portion of fines is minimal. Fewer fines mean almost no sludge on the bottom of your cup or French press. And thanks to the solid body and mechanism, this grinder is very quiet.Here you can see the superior stabilization of the grinding mechanism and the design of the burr. Get it from Amazon.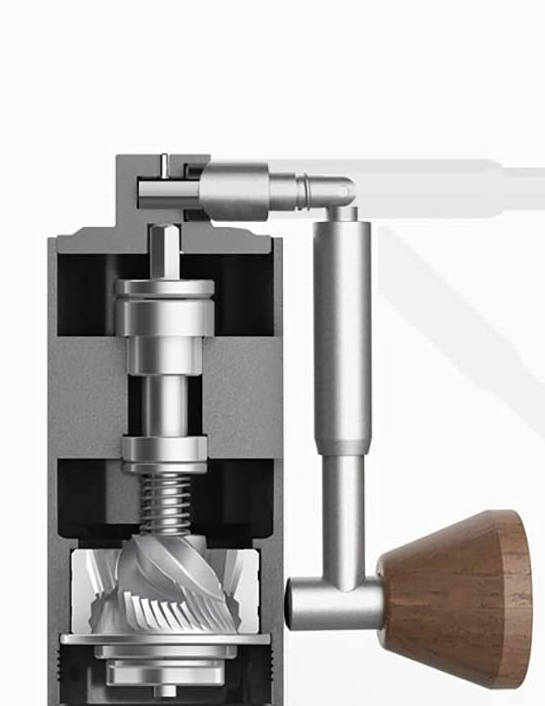 Here you can see the superior stabilization of the grinding mechanism and the design of the burr. Get it from Amazon.
Material
The body is made from a sturdy aluminum alloy. It has a surface with a diamond pattern, ensuring a firm grip. I also like the hand crank attached to the top lid and folding easily, thus saving storage space. And because it remains attached to the grinder, it doesn't get lost in your kitchen cabinet.
Capacity
The indicated capacity is a bit small with 15 g. However, I can squeeze in about 20 g, which works fine. If I need to grind more coffee beans when friends are over, I do a second or third grinding round. After all, grinding 20 g at the grind size for drip coffee takes me only 35 seconds. An espresso grind is much finer and will take a bit longer, but not much longer than grinding with an electric grinder. If you need a bigger capacity, other models in this line can hold up to 30 g.
Grind setting
You set the desired grind size with a click dial. First, you have to turn the dial to the right as far as possible to the starting point. Then you turn it left, 10-14 clicks for espresso, 18-24 clicks for pour-over or hand drip, 25-27 clicks for French Press. The settings in between allow you to fine-tune your grind. This solution is much better than the infinitely adjustable grind setting. Still, you can't see which level is set as there are no markers. To have the comfort of a numerical grind setting, you would have to buy the Chestnut X, the top manual coffee grinder in the Timemore product line.
My verdict
The standout feature of the burr coffee grinders in the Timemore Chestnut line is the high-precision burr and the perfect grinding action.
I have bought the Chestnut NANO because of the combination of these qualities and a reasonable price. After several weeks of daily grinding, I can tell you that I am most satisfied with my decision.
Consider investing in an even better hand coffee grinder than the Chestnut NANO if money is not an issue. In that case, I recommend taking a serious look at the Timemore Chestnut X. That is currently the ultimate manual coffee grinder on the market:
JavaPresse Manual Coffee Grinder
I have been using an almost identical grinder for the last two years. It is the type I referred to above, which several Chinese manufacturers offer with only slight variations in design. Prices vary between $10 and $50 but don't necessarily reflect differences in quality. They are reasonable entry models and are much better than electric blade grinders. They do a fair job, but you will soon realize their shortcomings if you are serious about your coffee game.
Positive
Conical ceramic burr
Stainless steel housing
No static electricity build-up
Easy to clean
Slim design and very portable
Very reasonable price
Negative
Simplistic burr design
Ceramic burr can break easily
No solid shaft stabilization

 

Wobbly grinding action resulting in an inconsistent grind
Grind adjustment of the infinitely adjustable type
My Verdict
This type of grinder is an entry-level model. It has served me well for two years, but the burr has lost its sharpness over time and now produces a very inconsistent grind size.
Hario Skerton Pro Ceramic Burr Hand Mill
I also looked at the Hario Skerton Pro, which seems a popular model. After all, Hario is a reputable Japanese maker of coffee gear, well-known for its Hario V60 filter and French press. 
The Hario Skerton Pro is an upgrade from a previous popular model with a new burr design for better consistency. Hario has also improved the stabilization of the central shaft
Positive
Conical ceramic burr with new burr design
Impressive capacity of 100 g
Solid feel
Reasonable price
Negative
material: plastic on top, heavy glass base
shaft: stabilization not comparable to Timemore models
burr: ceramics is fine, but I wanted something sharper
simple grind adjustment: infinitely adjustable type
My Verdict
Reasonably priced entry model. I haven't tried it myself, but it probably does its job reasonably well. But since I have been using a simple ceramic burr coffee grinder before, I was looking for a significant upgrade to my coffee brewing game. Also, I prefer a slim design for aesthetics and space-saving considerations. 
Here is where you can get it: